Narrow, cobbled streets leading to bustling squares and breathtaking historical architecture hidden around every corner maintain the cities quaint, Spanish vibe, yet its new metropolitan infrastructure and modern enhancements really represent Madrid's present, and future, as Spain's most important city.
You probably won't find any other place in the world like Madrid, an old-hearted town with a fresh juvenile spirit, a perfect mix of liveliness and splendor. This Madrid travel guide will make sure you don't miss what the city has to offer, the discovery is down to you.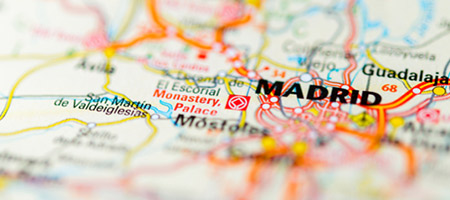 Learn here The history of Madrid as we know it unfolds in the 9th century A.D.
Culture & the Arts
There's more to art in Madrid than the magnificent Prado. Get your dose of Madrid architecture, concerts, cultural centers, festivals and flamenco here. Read more
Trips from Madrid
These quick getaways are perfect for escaping the urban bustle and unearthing the region's past: Toledo, Segovia, El Escorial and the Sierra de Guadarrama. Read more
Madrid, Spain's capital, is a city that is commonly associated with political power and a certain greyness, but, far from that, Madrid is a captivating city full of history, tradition, art, and bustling with life. Its many squares and parks invite the visitor to relax in them, after visiting one of its many top-class museums, or strolling around its romantic neighbourhoods. Madrid is a city that gets a hold on the visitor just after a few steps on its streets.
How to Use this Guide
We want to give you accurate and up-to-date information, for you to better plan your trip to Madrid. That's why our sections are sequenced in the natural order of a trip: About Madrid is what you need to know before you leave for your destination, and Transportation will inform you about getting around in Madrid, for example.