Car Rental and Hire Car companies in Madrid, Spain
If you decide to rent a car in Madrid you will be able to get off the beaten track a bit more and explore everything this enchanting city and the surrounding areas has to offer. There are plenty of trusted car hire companies in Madrid that offer a straightforward service with a large range of pick-up and drop-off points all over Spain, meaning that you do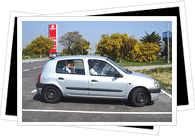 not have to feel tied down to sticking in one place. Most rent a car firms allow you to pre-book via the internet where you may find discounts and special offers. It also means you can have everything prepared before you even get to Madrid and can set off exploring as soon as you arrive!
If you have never driven in Spain before it is important to be aware of the laws. British and Australian drivers be sure to get on the right hand side of the road and take extra care adapting! Be especially careful during national holidays when the most road accidents occur in Spain as so many more people take to the roads. Drink driving is obviously illegal but the limits are especially low in Spain - 0.5 mg of alcohol per millilitre of blood. Speeding can result in on the spot fining so take heed of all speed limits:
Motorways: 120 km/ hour
Open Road: 90-100 km/ hour
Town: 50 km/ hour
Finally, make sure you hire from a reputable rent a car firm in Madrid, the best known companies are listed below.
Rent a Car Madrid
Alamo
Dr. Esquerdo 62, Madrid 28007
Tel: +34 913851244
www.alamo.com
Avis
Gran Via 60, Madrid 28013
Tel: +34 915484204
www.avis.co.uk
Europcar (*discounts are available if you have travelled with easyjet.com)
Avda. del Partenón, 16-18 Madrid 28042
Tel: +34 902105030
www.europcar.com
Hertz
Dehesa de Chamartin, St. Agustin de Foxa, Madrid 28046
Tel: +34 917330400
www.hertz.com
National
Plaza de España Car Park, 1st floor, Madrid 28013
Tel: +34 915429610
www.natcar.com
Pepecar
Calle Princesa 40, Plaza de España, Madrid 28008
Tel: 807414243
www.pepecar.com
In Madrid, most companies have offices all over the city including in Atocha Station, Chamartin Station and at Barajas Airport.