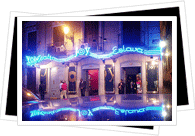 When ask you people for their first impressions of Madrid, the most common response tends to be something along the lines of... "this place is crazy!"
Although New York claims the title of "the city that never sleeps," Madrid is a close contender, if not the truly deserving candidate. Madrileños and foreigners alike roam the streets at all hours, hopping from tapas bar to bar, from bar to nightclub, and from nightclub to after-hours. There are so many bars in Madrid that the city government just placed a cap on opening new ones... need we say more?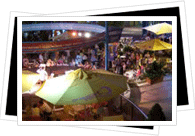 Most Madrileños have a pair of favorite "zonas de marcha," or nightlife districts. Each barrio carries a distinct style and vibe, so instead of picking one place to spend the whole night, the norm is to jump around bars in an area that fits your tastes, then commit to one nightclub where you'll have to pay a cover charge.
For a rundown of the hottest Madrid bars and clubs check out our Weekend in Madrid article.
Puerta del Sol, Gran Vía & Huertas
When tourists don't know where to go, they start at the center of it all, Puerta del Sol, and trickle back towards Plaza de Santa Ana and Huertas for more. This is the land of Irish pubs, pop music, foreigners and, to be frank, Spaniards looking for foreign action. Nevertheless, there are some authentic tapas bars around here and Huertas holds two respected jazz bars: Café Populart (Huertas, 22) and Café Central (Plaza del Ángel, 10). Another exception is Calle de Echegaray, which holds some decent flamenco haunts, Cardamomo (#15) and Los Gabrieles (#17), and the funk-filled La Boca del Lobo (#11).
Gran Vía
Up, down and off Gran Vía, Madrid nightclubs abound. The boulevard is packed at all hours of the weekend, starting at the metro stop Gran Vía, Callao, San Bernardo and Plaza de España.
La Latina
La Latina, nearby Plaza Mayor, is a Sunday afternoon favorite. Just when you thought the weekend was over, you'll find madrileños packed into the bars around Plaza de la Paja, Plaza de San Andrés and Cava Baja; drinking beer in the squares; or chilling at sought-after terrace spots. It's also a great area to get tapas, wine, beer or cocktails on any night of the week. The vibe here is laid-back and a touch trendy, but very inclusive.
Chueca
Queers and heteros alike mingle seamlessly in Chueca, the dynamic hub of Gay Madrid. The most modern of Madrid barrios in decor and style, Chueca nightlife is sleek and refined. On the other hand, if you're into reggae and hip hop, head to Calle Barquillo's Kingston's (#42).
Malasaña
Emerge from the metro station Tribunal on any weekend night and you'll immediately get a feel for the Malasaña nightlife: young, alternative, rocker, hipster. Malasaña may not be the counterculture hotbed it was during La Movida, but it still packs a punch all around Plaza Dos de Mayo, Calle de San Vincente Ferrer and Calle de la Palma. Calle del Pez, closer to Gran Vía, attracts a slightly more mature crowd with stellar tapas bars like El Pez Gordo, chill cafes like Nº1 and jazzy bars like Cafeina.
Lavapiés
If you want to see gentrification in action, head to Lavapiés. It's inhabited by hippies, hipsters and a large immigrant population, but locales with a sleeker look are sprouting up everywhere. From Indian restaurants and Brazilian bars to clandestine chill-outs and flamenco locales, Lavapiés is, hands-down, the city's multicultural scene.
Salamanca
The Salamanca landscape consists of loafers, polo shirts, high heels and tans fresh off vacation at the beach house. In other words, this is where the city's wealthy mix. You might spot famous actors and football players at Gabana 1880 (Velázquez 6) -- if they let you in, that is. Shabay, on Calle Miguel Angel 3, is another popular, swank spot with kama sutra decor.