Puerta del Sol & Gran Vía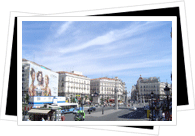 Location
All roads lead to Puerta del Sol -- literally. Known as "kilometer zero" because the distances of Spain's highways are measured radiating out from here, Sol serves not only as the heart of Madrid, but of the entire country as well.
Puerta del Sol is a great point of reference for anyone visiting Madrid, since a number of important roads diverge here. Head westward on Calle Arenal and you'll reach the Royal Theater & Palace; go southwest on Calle Mayor and you'll find the Plaza Mayor and "Austrias" part of Madrid. Eastward, Carrera de San Jerónimo will lead you to the Congress and Prado Museum, while Calle de Alcalá takes you straight to Plaza de Cibeles, the Puerta de Alcalá and the Retiro Park. Any of the northbound shopping streets (Montera, Carmen, Preciados) put you out on Gran Vía -- cross the street and you're on your way to Malasaña.
Metro stops in this area: Sol, Sevilla, Gran Vía, Ópera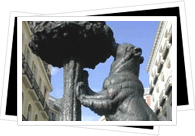 In a Nutshell
Puerta del Sol is the bustling center of the center of Madrid, flanked by large department stores, retail shops and fast food restaurants on every side. Its location has made it a popular meeting point for hundreds of years, now with modern markers like the neon "Tío Pepe" sign and Madrid's most emblematic statue, "El Oso y el Madroño" (the Bear & the Strawberry Tree). On New Year's Eve, Puerta del Sol is the equivalent of New York's Times Square. Thousands gather to count down to the chimes of the clock above Casa de Correos and eat a grape for every toll.