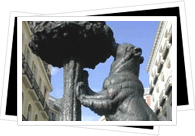 At first glance, Madrid can seem rough around the edges. Most tourists return from Spain raving about seaside destinations like Barcelona and San Sebastian or southern charmers like Seville and Granada. But they leave Madrid remembering little more than the Prado museum, large government buildings and the city's insane nightlife (if they can remember the night at all, that is).
Don't let first appearances discourage! This is an top-notch metropolis well worth scratching the surface, full of beautiful things to see if you look in the right places.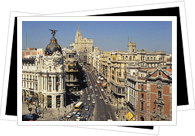 Madrid, Spain's capital city, is also the country's largest with about 3 million inhabitants. Of these, at least 17% are immigrants and many Spaniards are from elsewhere. This means that people in Madrid are very friendly to fellow outsiders. It's widely agreed that you can be a "madrileño" without being born in Madrid!
Landlocked in the center of the Iberian peninsula, Madrid is conveniently located at less than 8 hours driving from any other Spanish city. Nearby, you can enjoy short trips from Madrid to the enchanting historical attractions of Toledo and Segovia or the slopes of the Sierra de Guadarrama. It's easy to travel around Spain by bus or train, and city transport is a cinch with one of the world's best metro systems, over 100 bus lines and taxis around every corner.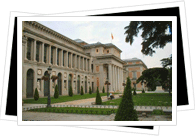 Madrid's history is an odd one. An insignificant medieval city, it was only named capital in the 16th century and struggled to live up to the reputation of other great European hubs. Nowadays - finally - Madrid rests self assured with world class museums and architecture.
Above all, Madrid is a city experienced on the street. It truly offers Europe's craziest nightlife -- you'll find yourself out until 6am bouncing from tapas bars to nightclubs wondering when and where the hours escaped you. If you'd rather make a tranquil night of it, you'll find every kind of restaurant imaginable, dozens of movie theaters, theaters and flamenco venues. If you're a sports fanatics, plan ahead to see the "Best Football team of the 20th Century," Real Madrid CF, in action at the Bernabéu stadium.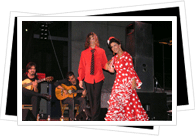 Check out our city guide section for tips on moving beyond touristy Puerta del Sol to rock 'n roll Malasaña, sleek Chueca, multiethnic Lavapiés, ritzy Salamanca or monumental Plaza de España. Madrid is just waiting to be explored, so stretch your legs in one of its 3 large parks or stroll shopping for unique finds.
Ready to find out more? This is just an introduction... explore our Madrid travel guide to see what this amazing city is all about!