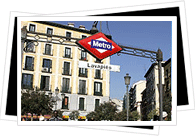 Location
El Rastro - named after the Sunday market held within its bounds - lies within the triangle formed by the La Latina metro stop, Puerta de Toledo and Glorieta de Embajadores. Lavapiés, the area east of El Rastro, has as its boundaries Calle Atocha to the east, Ronda de Valencia to the south, Calle de Embajadores to the west and Calle de la Magdalena to the north.
Metro stops in this area: La Latina, Lavapiés, Tirso de Molina, Antón Martín, Puerta de Toledo, Embajadores, Atocha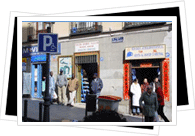 In a Nutshell
El Rastro may only take place on Sundays, but flea market spirit pervades this artsy, bohemian section of Madrid. In Medieval times, Lavapiés was the Jewish/Moorish quarter located outside the city walls. Coincidentally or not, the neighborhood has retained an outsider character with visible immigrant communities from Morocco, sub-Suharan Africa and India. Lavapiés is the most multicultural, ethnically diverse Madrid barrio, but it is quickly undergoing a process of gentrification as more and more cafes, bars and galleries open every day. If you're looking for foreign flavor, this is the place to go.