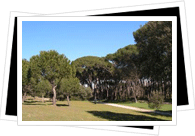 Do you enjoy spending time outdoors? Fancy a weekend a picnic? Then Madrid won't disappoint.
Spain's capital is home to numerous parks and green spaces which offer a large variety of outdoor activities to keep you busy on a sunny day. From the Retiro Park's row boats and conga players to the enormous Casa de Campo's views of the city and the Parque del Oeste's Egyptian temple, Madrid has much more to offer than historic buildings, asphalt streets and museums and galleries.
Madrid boasts a whopping 40 parks which cover about 33 kilometers squared of green land -- quite impressive numbers for a major world capital. A stroll, or "paseo", is a favorite madrileño pastime... so strap on your walking shoes or Sunday best and head to the parks with the rest!