Plaza Mayor, Madrid - Los Austrias / Hapsburg Madrid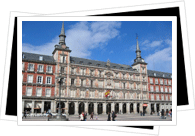 Location
The Plaza Mayor's northern wall stretches along Calle Mayor, the street that connects Puerta del Sol west towards Calle Bailén and, consequently, the Royal Palace, Almudena Cathedral and Puente de Segovia. Follow any of the alleys south off this grand square and you'll discover the Old City, also known as "Hapsburg Madrid," "Madrid de los Austrias" or "La Latina."
Metro stops in this area: Sol, La Latina, Ópera, Tirso de Molina
In a Nutshell
The Plaza Mayor was one of Madrid's first market squares in the 15th century and, as construction continued over centuries, came to host bullfights, carnivals, festivals and all kinds of official ceremonies. It's now home to the city's biggest tourist office, a city government building and a number of overpriced but pleasant cafes with outdoor seating year-round. You'll stumble upon all sorts of fairs, tents and exhibits on any given day, but especially during Christmas when nativity scenes and stands selling wigs fill the square.
The most typical Madrid attractions are concentrated around the Plaza Mayor in the "Austrias" neighborhood. Discover Madrid food at classic restaurants like El Botín or Casa Lucío, see flamenco at any number of nearby venues, or get a glass of sherry on the ever more hip Cava Baja street where locales old and new bustle all nights of the week. Los Austrias is a great neighborhood to amble along old winding streets and lose yourself in historic Madrid.