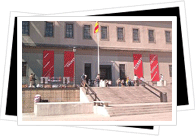 Madrid's capital status is evident, above all, in its vast art collection.
No other city on the peninsula holds such an impressive display of works from the great Spanish and European masters. El Greco, Tiziano, Rubens, Velázquez, Goya, Picasso, Miró and Dalí, are just some of the big names represented time and time again in the corridors of Madrid's museums.
Madrid's big 3 or "triangle" of museums – the Prado, the Reina Sofia and the Thyssen – are conveniently located on the Paseo del Arte (Avenue of the Arts).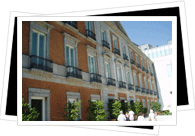 If you only have time for one museum, either go classic at the Prado or contemporary at the Reina Sofia, whichever suits your fancy. If possible, however, you should take advantage and hit up all three. The Paseo del Arte voucher allows you 1 visit to each to the Prado, Reina Sofia and Thyssen for a great deal; it's valid for 1 year. (Available at the ticket desk of any of the museums).
Erudite and novice art fans alike are sure to find a Madrid museum that pleases. Besides the "big 3," you can stray off the beaten path to explore these equally respectable options at the top of a long list: Other Museums in Madrid