Plaza de España & Moncloa, Madrid
Location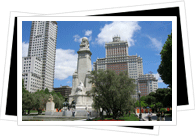 Plaza de España is one of Madrid's most symbolic squares, located just north of the Royal Palace all the way west of Madrid's center. Two enormous Madrid avenues - Gran Vía and Calle de Princesa - meet here. Gran Vía leads southeast towards Puerta del Sol; Calle de Princesa leads northwest to Moncloa, where the Complutense University is located.
Metro stops in this area: Plaza de España, Ventura Rodríguez, Argüelles, Moncloa
In a Nutshell
The area right around Plaza de España holds a lively combination of art house movie theaters, ethnic restaurants and a large park, the Parque del Oeste. The southern section of the park, Templo de Debod, offers incredible sunset views overlooking the Almudena Cathedral and Royal Palace. The neighborhood northwest of Plaza de España, Argüelles/ Moncloa, is the city's biggest university district and holds all that comes with a student population: bars, concert venues, restaurants, clubs and numerous shops.