Top 5 Reasons to Visit Madrid
1) Vivacity
Bustling, energetic, vibrant... Madrid churns with energy as only a capital city could. From Puerta del Sol and the Gran Vía boulevard to Plaza de España, Malasaña, Chueca and the Real Madrid stadium, it's not sheer multitude that makes the city stir. It's the madrileño attitude -- a zest for socializing, taking to the streets and cheerfully maximizing every hour not spent working.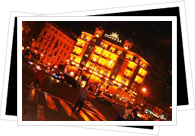 2) Nightlife
Ninety-nine percent of the time, the Madrid characteristic that most impacts first-time visitors is its nightlife. The Spanish schedule generally runs later than most, but even more so here. Eat dinner at 10pm and your night on the town begins to jump when London pubs are closing and continues 'til the sun comes up. "Salir" - to go out - only counts if you've made it past 4am. Otherwise it's just a "vuelta," or a stroll around the block.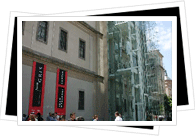 3) Cultural Activities
The problem with Madrid culture & arts is picking and choosing what to do! Besides the fantastic permanent collections of the Prado Museum, Reina Sofia Museum and Thyssen Bornemisza, there are dozens other museums, cultural centers, galleries, theaters, cinemas, music venues, flamenco locales, festivals... you get the picture. Keep your eye on newspapers and leisure guides like Guía del Ocio for the latest happenings.
4) Location
Phillip II chose Madrid as capital for its prime location smack in the center of the Iberian Peninsula. Visit Madrid and see how easy it is to discover the rest of Spain from this jump-off point. On the one hand, you can take day trips from Madrid to rich historical towns like Toledo, Segovia and El Escorial or enjoy nature activities in the Sierra de Guadarrama. On the other hand, Madrid's airport, train and bus stations are the best connected in Spain. No national destination is more than an 8-hour ride from here -- and low cost airlines make it even easier to move around the country.
5) Tradition & Modernity
This is the great time in Madrid history to visit. The cutting-edge center of La Movida in the 80's, it fell behind Barcelona's Olympic shadow in the 90's but currently is on its way back. In any case, the fact that Madrid is not as 'hip' and popular as Barcelona lends it a special charm. Traditions like San Isidro and El Rastro flea market prove madrileños value local customs, while the gay neighborhood of Chueca, rocker Malasaña and multiethnic Lavapiés prove that Madrid is fervently embracing modernity as well. The city is plagued by construction, however we'll all benefit in a few years as pedestrian-only streets multiply and shabby areas get a face lift.