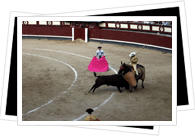 Bullfighting, that oh-so typical and controversial Spanish tradition, is still alive and well in Madrid. If you want to see the ritual of tauromachy, there's no better place than Madrid's bullring, Plaza de Toros de Las Ventas, and no better time than the San Isidro festival in May.
When to see a bullfight in Madrid
Bullfighting season in Madrid runs from the beginning of March to the end of October. Bullfights are held every Sunday during this period, as well as other days of the week during important Madrid festivals like San Isidro, Dos de Mayo and La Paloma. The Plaza de Toros de Las Ventas also opens on select Fridays in July and August at discount prices.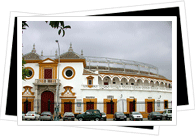 Where to see a bullfight in Madrid
There is one grand bullring in Madrid's city center: Plaza de las Ventas. The region also holds a number of nearby bullrings of lesser importance in Aranjuez, Colemnar Viejo, Chinchón, Getafe, Leganés and the Sierra de Guadarrama. These towns celebrate their typical fiestas at the end of August or beginning of September, a great opportunity to see bullfighting in an intimate setting and get crazy with Madrid locals.
The Plaza de Toros de las Ventas, built in 1932 and admired for its "mozárabe" style, can hold almost 25,000 spectators. Las Ventas is Spain's most important bullring and an essential stop for any aficionado.
While at Las Ventas, you can also visit the Museo Taurino, a museum dedicated to all things "toro": paraphernalia, paintings, sculptures, dress and more. The museum is open during bullfighting season (March - October), Tues-Fri from 9:30am-2:30pm and Sundays & festival days from 10am-1pm. Out of season (November - February) hours are Mon-Fri, 9:30am-2:30pm.
Plaza de Toros de las Ventas
c/ Alcalá 237
Metro stops: Las Ventas (line 2 or 5)
Bus lines: 12, 21, 38, 53, 106, 110, 146
Neighborhood: Salamanca
How to get tickets for a bullfight in Madrid
Tickets to see a bullfight in Las Ventas range from 2€ to 115€. Sections 1, 9 & 10 are the most sought-after and expensive but you can still get cheap seats high up from this vantage point.
Box office hours: Fridays from 10am-2pm & 5pm-8pm