Friday Night
People live for the nighttime in Madrid and if you're lucky enough to spend a Friday night there then you won't want to miss a minute - so check in and get going!
Things start hotting up around 10.30 in the city centre. A good place to start your weekend in Madrid is the ever-popular Plaza Santa Ana (nearest Metro: Sol or Tirso de Molina). This pretty square is brimming with restaurants and any one of them makes a good choice for sampling a bit of traditional Spanish munch.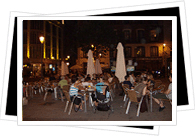 By midnight Madrid bars are bustling and there are so many that even the most alternative tastes will be satisfied. If live music is your thing then you are already in the right place. Just behind Plaza Santa Ana you will find Madrid's two most famous music bars - Cafe Central (Plaza del Angel 10, www.cafecentralmadrid.com) is Madrid's most traditional jazz old-timer and costs about 10euros to get in. On the other hand, busy Cafe Populart (C/Huertas, www.populart.es) has free entry and is a lot more eclectic. I have seen anything from blues and jazz to celtic folk bands here so it's worth just going with the flow!
If you want to see some authentic Flamenco, catch a show at Las Carboneras (Plaza Conde de Miranda 1, Metro: Opera, +34 915428677). Shows start at 20.30 and 22.30 and it's best to reserve first.
Heading south from Santa Ana your best options for Madrid bars are Lavapies or La Latina. The former is the most multicultural district in the city and definitely the best place to get a curry. From the Plaza de Lavapiés (Metro: Lavapies) there are endless little bars to explore, especially down Calle Argumosa, Calle Ave María and Calle Lavapies. This area attracts a young boho crowd who dress down and are more interested in cheap drinks and good conversation than fancy décor and pricey cocktails. In the summer months most bars have outside terraces and there is music to suit all tastes. A chilled out choice is La Aguja (C/Ave María) where DJ's spin out rock and jazz on old school vinyl till 2.30am.
On the other hand, La Latina (Metro: La Latina) is a more trendy option that is equally as lively and jam-packed with bustling little drinkeries and cool bars. Down the Cava Baja and the Cava Alta you will be spoilt for choice with places to go. Corazon Loco (C/Almendro) is a La Latina classic and punters spill out into the street with their cañas (small beers). Similarly, Plaza de la Paja is an all time favourite with young Madrileños - Delic serves especially good mojitos. For a bigger choice of cocktails cross the C/Segovia and head to Corgui (C/Rollo 8) where you will be spoilt for choice with strawberry daquiris and black forest gateaux martinis.
When La Latina's bars close up at around 3am it's time to hit the clubs. If you fancy travelling back to the 1930's head to Berlin Cabaret (Costanilla de San Pedro 11, www.berlincabaret.com). From the outside it is just a big door that an even bigger bouncer opens and closes. Inside it is a crazy mixture of red velvet and suspender belts that you will not experience anywhere else! Cabaret shows take place at 1am and then a mixed crowd party together until 6am.
For something a little more ordinary, lovers of all things funky should get down to Madrid's best funk club. Marula Café (C/Caños Viejos 3, www.marulacafe.com) has excellent resident Dj's and frequent invited guests from the international funk scene who pump out the tunes till 6 or 7am.