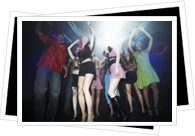 Madrid festivals are not nearly as famous as Spain's other bacchanals like the Running of the Bulls, Fallas or La Tomatina, to name a few. Then again, Madrid nightlife is so fierce on a weekly basis that you don't need to plan your trip around a special festival to guarantee a crazy party. Madrileños take their festivals nonchalantly, like any other great excuse to hit the streets and enjoy the company of friends, music and, of course, alcohol.
See about music festivals in the Madrid music section.
Major Madrid Festivals
Nochevieja, December 31
New York has Times Square, but Madrid's ball drops from the clock tower at Puerta del Sol, where thousands gather yearly and Spaniards elsewhere watch the raucous on TV. Instead of counting down from 10, the clock chimes 12 to represent good fortune for the 12 upcoming months of the year. Tradition obliges you to eat a grape at every toll - more of a challenge than you might imagine - and uncork your champagne at midnight. After that, it's impossible predict where the night will take you!
Dos de mayo, May 2
On May 2, 1808, the people of Madrid rose up against Joseph Bonaparte, Napoleon's brother, to free themselves of French rule. Thus began the 6-year War of Independence and, along with it, a new concept of Spain delineated by the country's first constitution. Madrid celebrates this beloved uprising around the Plaza de 2 de mayo in Malasaña, an important battle site and, since then, a counterculture epicenter (see La Movida). Police have more or less lifted the outdoor drinking ban in the plaza just for this occassion after years of prohibition, reviving the Dos de Mayo spirit.
San Isidro, May 15
Read about Madrid's most important festival: Fiestas de San Isidro
San Lorenzo, San Cayetano & La Paloma, August
August heat prompts most madrileños to escape the city, but those who stay commiserate merrily throughout the centro at outdoor fairs, bars and concerts. First come the neighborhood festivals of San Cayetano in El Rastro neighborhood and San Lorenzo in Lavapiés, where local residents set up concerts, colorful decorations, games and outdoor food & drink stands. La Paloma, on the other hand, celebrates the Virgen's Assumption during the week of August 15th with traditions similar to San Isidro.