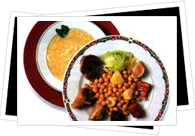 Madrid is not especially known for its native cuisine. Other Spanish regions like Basque Country, Catalunya or Galicia are much more famous for their food, and rightly so. Madrid foods tend to be heavy, hearty and, well, contain ingredients to which foreigners are not accustomed. Thus the lukewarm reputation.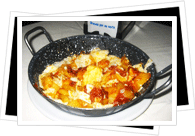 Nevertheless, the bold and strong-stomached might be pleasantly surprised by typical foods in Madrid. If anything, they do their specialties well.
Typical Foods in Madrid
Cocido madrileño: meat and chickpea stew
Cochinillo asado: roasted sucking pig (very typical of surrounding towns like Segovia)
Rabo de toro: stuffed cow or bull's tail
Callos a la madrileña: tripe in a spicy tomato sauce
Oreja: pig's ears
Bocata de calamares: fried calamari sandwich on French bread (look around the Plaza Mayor)
Tortilla de patatas: thick omelet of eggs, onion and potatoes.
Patatas bravas: fried potatoes covered in a spicy tomato sauce
Huevos rotos: eggs fried over a plate of french fries
Sopa castellana: garlic soup
Porras: a thicker version of churros - fried batter eaten with thick hot chocolate or coffee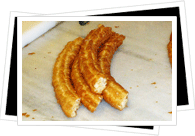 Ears and tripe aside, there are plenty of other delicious, standard tapas options (croquetas, manchego cheese, serrano ham...). And of course, Madrid offers hundreds of restaurants of all kinds if you prefer other types of national and international cuisine.