Flamenco may have been born in Andalusia, but many of the best schools and live venues are in Madrid.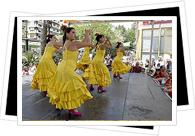 Not sure what flamenco is, exactly? You can read about it here: flamenco history .
There are a few different ways to experience flamenco in Madrid. First and most pervasive are tablaos, where you'll sit at a table, enjoy a drink and a meal if you'd like and see an intimate, traditional show on a small stage. This option can be quite expensive (expect about 30€ with a drink and 60-70€ with meal) and touristy, but is the prototypical introduction to flamenco.
Next, there are a few bars where you can see all different kinds of performances, some improvised, some planned, some fusion, some authentic.
Lastly, you might coincide with a big production presented at one of Madrid's many theaters, like the Teatro Real or Teatro Albéniz.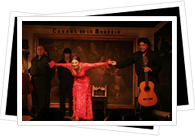 Flamenco Tablaos in Madrid
Corral de la Morería
c/ de la Morería 17
Neighborhood: Plaza Mayor
Tel (34) 91 365 84 46
Metro La Latina
In the heart of old Madrid, this serious, established spot - possibly the most well known flamenco locale in the world - is celebrating its 50th anniversary. Nightly performances start at 10pm; the restaurant opens at 8pm. The Corral's guest list includes huge names like Mohammed Ali, Che Guevara, Ernest Hemingway, Salvador Dalí, Pablo Picasso, John F. Kennedy, Ronald Regan, Sofia Loren, Sammy Davis Jr., King Hussein of Jordan, U2...
Casa Patas
c/ Cañizares 10
Neighborhood: Huertas
Tel (34) 91 369 04 96
Metro Anton Martin or Tirso de Molina
Traditional, authentic, and reliably fantastic flamenco, with 10:30pm shows Mon-Thurs and 2 shows on Fri & Sat (9pm & midnight). Stars like Prince, Naomi Campell, José Mercé, Willem Defoe, Robert Smith and Johnny Depp have attended shows here. There is also a well respected flamenco conservatory upstairs.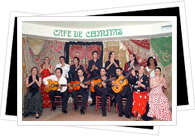 Café de Chinitas
c/ Torija 7
Neighborhood: Plaza Mayor
Tel (34) 91 547 15 01
Metro Santo Domingo
Mythical, classy and pricey spot with performances starting around 10:30pm. Bill Clinton, Omar Sharif and Pedro Almodóvar are some of the visitors that Chinitas boasts to have hosted.
Cardamomo
c/ Echegaray, 15
Neighborhood: Puerta del Sol / Huertas
Metro Sevilla (line 2)
Flamenco show from Tuesday to Sunday at 22h, with some great artists in the audience: Juaquin Cortes, Ramón el Portuhués, Tomatito, Raimundo Amador etc ... It is also a flamenco bar at midnight and a meeting center of flamenco artists.
Las Carboneras
Plazuela del Conde de Miranda 1
Neighborhood: Plaza Mayor
Tel (34) 91 542 86 77
Metro La Latina, Opera or Sol
Las Carboneras offers traditional but relevant flamenco in a spacious and modern setting, with quality dancing despite a touristy crowd. Las Carboneras may be less glamorous or famous than its competitors, but its reputation is solid. Bi-nightly performances at 9pm & 10:30pm on weekdays and 8:30pm & 11pm on weekends.
Flamenco Bars in Madrid
Candela
c/Olmo 2
Neighborhood: Lavapiés
Metro Tirso de Molina
Cellar jam sessions and flamenco music over the loud speakers. It can be a little seedy, though. Open from 11pm-6am; packed in the later hours when neighboring Lavapiés bars close.
La Soleá
c/ Cava Baja 27
Neighborhood: Plaza Mayor
Metro La Latina
Though touristy, you can count on a house guitar player at La Soleá every night. Singers and dancers are free to improvise, and the atmosphere is generally friendly. Open til 6am, but you're likely to catch the better artists before the inebriated late-night crowd starts to bellow.
Monteleón
c/ Monteleón 36
Neighborhood: Malasaña
Metro San Bernardo
Newer on the scene and with a great rep, this is the current hotspot and less touristy. Open til 6am, but the crowd picks up around 2.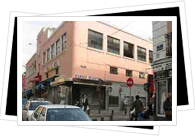 Flamenco Schools in Madrid
Centro Amor de Dios
c/ Santa Isabel 5, above the Mercado Antón Martín
Neighborhood: Lavapiés
Metro Antón Martín
Tel (34) 91 360 04 34
A highly respected and recently renovated center, Amor de Dios offers all levels and is dedicated almost excusively to the teaching of flamenco dancing, singing, guitar and cajón (a box used for flamenco percussion). World renowned artists give classes here.
El Horno
c/ Esgrima 11
Neighborhood: Lavapiés
Metro Tirso de Molina or La Latina
Tel 91 527 57 01
Here you'll find all kinds of dance, music, acting and theater classes, with flamenco in the mix. It's a multi-purpose space, and the flamenco classes are a little less serious and expensive than Amor de Dios. Famous flamenco stud Joaqu�n Cort�s rehearses here.