Sierra de Guadarrama, Spain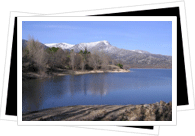 When madrileños yearn for some fresh country air and respite from the urban commotion, they flee south to the Sierra de Guadarrama. This mountain range offers a number of nice hiking trails, charming little towns, prime picnic spots, skiing in the winter or lake swimming in the summer. Below we've highlighted some of the most popular regional destinations.
Skiing in the Sierra de Guadarrama
Puerto de Navacerrada & Puerto de Cotos
Valdesquí: a 1-day pass here costs between 30 and 40 euros. You can easily arrive by Cercanías train C-9 from Atocha (Madrid) to Cotos. Valdesquí is 80km (50 miles) north of Madrid and 37 km (23 miles) south of Segovia. Call (+34) 902 886 446 for more information.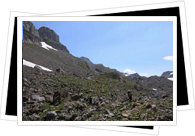 Manzanares el Real & La Pedriza
The town of Manzares el Real holds two major attractions: a 15th century castle full of Belgian tapestries and La Pedriza (info center +34 918 539 978 from 10am-6pm). La Pedriza, part of the Regional Park "Cuenca Alta del Manzares," is a unique granite playground with climbing, hiking paths and a number of ponds great for escaping the summer heat.
Bus #724 runs from Intercambiador Plaza de Castilla (metro Plaza de Castilla) to the center of Manzanares el Real on the half hour from 7am - 10:30pm. By car, head north on the M-607 to Colemnar Viejo; then switch to M-609; 5 km down turn onto M-862 and then M-608.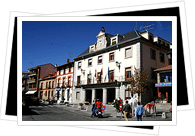 Cercedilla
Cercedilla is a charming town west of Manzanares el Real, conveniently accessible by train. It's just a 1 hour, 20 minute ride to breathe the mountain air and walk along the old Calzada Romana, a Roman road that dates to the 1st century AD. If you don't fancy walking, hop on the "nature train" through pine trees and up the mountain to the Navecerrada and Cotos ski stations. Companies like Cercedillaventura will take you horseback riding, paragliding, paint balling... or if you have a car, park it at Las Dehesas, a popular picnic and walking spot on the banks of the Guadarrama River.
If you have a car, take A-6 and get on M-601 at Collado Villalba.
Train - Cercanías line C8b from Estación de Atocha or Estación de Chamartín. Runs on the hour or half hour from 6am to 11pm.