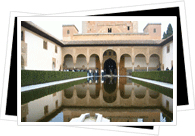 Introduction
If you're a winter sports enthusiast then a trip from Madrid to Granada is perfect for you. Granada is at the foot of the Sierra Nevada mountains and has 3 surrounding rivers (Beiro, Darro and Genil). The incredible city has a strong Islamic influence that will constantly remind you of the exquisite culture that surrounds you. It has a energetic nightlife, thanks to its being home to a vibrant university crowd.
The Place To Be
If you're looking to indulge on the artistic venues that Granada has to offer, take a look at this list for some great ideas! First is La Alhambra with the fusion of Hispanic and Moorish influences from the 9th to 16th century. The Palace of Carlos V (obviously had good taste), holds the Alhambra Museum. Another interesting museum in which to expand your knowledge is the Museum of Fine Arts, which hosts pieces from the 16th century onwards, with many pieces having been taken from various churches around Granada.
Sports
With the mention of the Sierra Nevada there is no surprise in saying that skiing is a rather popular leisure activity in Granada. If that's right down your street then you can get yourself on the slopes of the Estación de Sierra Nevada, the main ski resort. It has dozens of marked runs for you to test your skills. If that's a little extreme, you'll be pleased to know that there is an abundance of football, tennis and squash courts as well as several other sports- now there's no excuse!
Other great sights include the Palacio Nazaries; constructed in the 13th century, it has a stunning mix of Persian and Moorish influences.