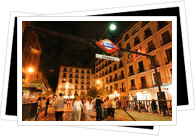 Location
Chueca is a small but lively neighborhood squeezed between Paseo de Recoletos to the east and Calle de Fuencarral to the west. Its epicenter is the Plaza de Chueca.
Metro stops in this area: Chueca, Alonso Martínez, Tribunal, Colón
In a Nutshell
Chueca is, in short, Madrid's gay neighborhood, and it exudes more New York style than any part of the city. Full of chic boutiques, the most modern and fashionable restaurants, bars, clubs and tapas restaurants, Chueca is a favorite of gays and heteros alike. The "Barrio Rosa" (Pink Neighborhood) shines during Gay Pride every June with an extravagant parade and debaucherous street partying.