Tourism Highlights around Chueca
Sociedad General de Autores
Plaza de Chueca
Chueca is not the place to see historic Madrid. There are few grand buildings of note besides the Sociedad General de Autores on c/ Fernando VI, #4. Designed by José Grases Riera, one of Antoni Gaudí's disciples, this 1902 building is one of the few "modernista" structures in Madrid. For more in this Catalan style, you'll have to head to Barcelona (www.whatbarcelona.com).
This is not to say that Chueca isn't full of charming buildings. In fact, it holds some of the most beautiful blocks in Madrid. Brightly-colored facades and intricate iron balconies characterize these streets packed with more and more trendy boutiques, bars, discos and restaurants every day.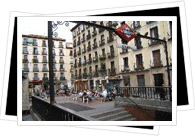 Plaza de Chueca is the center of barrio activity. Cafes around the square set up tables when the weather is nice. It's the see and be seen of Gay Madrid. On the other hand, plaza establishment Bodega Angel Sierra shows little signs of cosmopolitanism, with its wooden interior and vermouth taps. It's a classic Madrid meeting point for a pre-dinner drink, a perfect contrast to the electro-pumping sleek locales around every corner, so you can taste a little of each.
Speaking of restaurants, Chueca is full of them -- and with surprisingly affordable options. Taste forward-thinking, fusion cuisine or New York-style cafes along calle San Marcos (Cafe Diurno & Bazaar are two stand-outs).
Chueca is the kind of neighborhood perfect for strolling and stumbling upon attractive establishments... we'll leave the rest up to you!