Saturday & Saturday Night in Madrid
Saturday
Even if you stayed up till sunrise with the Madrileños, you've only got 48 hours remember -so set that alarm clock and get exploring the city by day!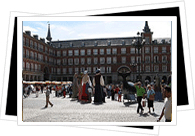 Tourist attractions in Madrid are not as plentiful as in other cities, however, the real pleasure comes from walking around the streets, admiring the beautiful architecture in the old town and soaking up the special and unique atmosphere that leaves visitors addicted to Madrid. So take your time and take a stroll to see some of Madrid's most impressive sights.
Breakfast coffee in the Plaza Mayor (Metro: Sol) is a great way to start the day before heading off to the Palacio Real (Calle Bailen, Metro: Opera). The impressive exterior is flanked by the beautiful Plaza de Oriente and inside the palace there are some royal artefacts, armour and furniture to admire. The Jardines de Sabatini are next door and the central pond is a popular spot for dunking your feet and cooling down on a hot day.
Grab some lunch in the very traditional Museo de Jamón (C/Arenal) before heading to Madrid's museums. 'The Golden Triangle' as they are known - The Prado, Thyssen-Bornemisza (both on Paseo de Prado, Metro: Banco de España/ Atocha) and Reina Sofia (C/Santa Isabel, Metro: Atocha) are giants of the museum world and are all equally well worth visiting. However, the sheer size of the Prado alone means that even the most avid museum lover would not be able to handle all these in a day, so just pick the exhibitions that are most to your taste. On Sunday museums offer free entry so you can always pop back tomorrow!
If you head to the Reina Sofia to see the modern art don't forget to go round the corner and visit the modern addition to the building. Designed by French Architect, Jean Nouvel, the architecturally astounding building cost over 90 million euros to build and features a lot of glass and red matte metallic slats. Inside there are conference halls, temporary exhibition rooms, a library, bookshop, bar and restaurant.
After all that culture head to El Parque de Buen Retiro (or 'The Retiro') which is just a few minutes walk away. Here you can join the tourists in a spot of rowing in the lake or just find a quiet spot to chill in this vast and beautiful park.
Saturday Night
Madrid Nightlife is something else and you need to get your energies up to enjoy it. Madrid Restaurants are so plentiful it can be difficult to choose - depending on your budget here are a few dinner options to get your evening off to a good start:
For Cheap Eats: El Tigre (C/Infantas 30, Metro: Gran Via) is an all time favourite with tourists and locals. You will be dining elbow to elbow with the other customers if you opt to eat in the front bar - here you get a plate of FREE tapas with every drink, so it's no surprise that this place is constantly packed. You can opt for the dining room at the back if you actually want to pay for your food.
Mid-Range: La Musa (C/Manuela Malasaña 18, Metro: Bilbao/ San Bernardo, www.lamusalatina.com). This great restaurant is the sister of La Musa La Latina (Plaza de la Paja) and 'beach' bar Ojalá (C/San Andres). The food is reasonably priced and the menu changes frequently but is always guaranteed to be tasty.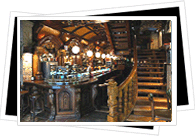 Special Occasion: La Viuda Blanca (C/Campomanes 6, Metro: Opera, www.laviudablanca.com). This stylish and sleek restaurant is the perfect place if you want to dine on experimental meditterranean cuisine in designer surroundings. Mains cost between 10-25 euros and the bar at the front (La Viuda Negra) has great after dinner cocktails.
Now it's time to really explore Madrid's Nightlife - Madrid bars are everywhere and a decent watering hole will always be nearby. Depending on your music taste, here are a few excellent pre-club stop offs to enjoy until 2.30 or 3am:
For Electro and House, head to Suite (Virgen de los Peligros 4, Metro: Sevilla, www.suitecafeclub.com), the glass fronted building is spacious and airy and the clientele are a mixture of those who are seriously into their music and those who are out to be seen in one of Madrid's coolest bars.
If a chilled out mix of Old and New Rock floats your boat then get down to Angies (C/San Vicente Ferrer 4, Metro: Tribunal) packed on the weekends but always a friendly and fun atmosphere.
For a bit of everything, from Funk and Soul to Rock, Punk and Pop then Costello is your place! (C/Caballero de Gracia 10, Metro: Gran Vía, www.costelloclub.com).
Madrid Clubs start warming up at around 3.30 when the bars close but on a Saturday it's definitely advisable to get there no later than 3am if you want to beat the mega sized queues. Here's the lowdown on Madrid's top clubs:
Bar y Co (C/Barco 34, Metro: Gran Vía/ Tribunal, www.barcobar.com) pumps out Latin Jazz, Funk and Hip-Hop till 7am.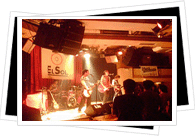 Pacha (C/Barceló 11, Metro: Tribunal, www.pacha-madrid.com) is a stylish club where people go to be VIP's or at least try to get into the VIP section, watch some of the most extravagantly dressed go-go's in Madrid, and dance to Electro House and RnB until 7 or 8am.
Kapital is one of Madrid's most famous clubs and is found at C/Atocha 125 (Metro: Atocha, www.grupo-kapital.com). This 7 floor superclub busts out every kind of music imaginable under one roof until 7am- a lot of crowd-pleasers and a good choice if you can't decide on one type of music.
Reina Bruja (C/Jacometrazo 6, Metro: Callao, www.reinabruja.com) is worth visiting just for the incredible décor and illuminations designed by uber cool Tomás Alía. When you've finished ogling the interior design you can enjoy a mixture of music including a fairly large dose of Spanish Pop till 6am.
Mondo at Sala Stella (C/Arlabán 7, Metro: Sevilla, www.web-mondo.com) is Madrid's best club for Electro music with a stylish crowd and a cool atmosphere.
By the time you stumble out of one of these amazing Madrid Clubs it may well be breakfast time so head to Chocolatería San Ginés (Pasadizo de San Ginés, Metro: Sol) and enjoy some Churros and Chocolate Spanish style, before heading home for some well deserved kip.