In 1998, FIFA, the world's principal soccer authority, reached a consensus on the best football club of the 20th century: Real Madrid Club de Fútbol.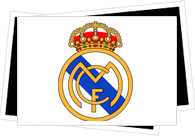 Few if any other soccer teams can claim to have won every major national and international title at least once. The history of Real Madrid CF is rife with success.
Founded in 1902, the club won their 1st Spanish championship just 3 years later. King Alfonso XIII bestowed them the "royal" title in 1920. Since then, Real Madrid has been the favorite of heads of state and has come to represent the most Spanish of teams.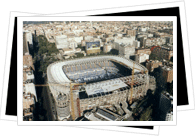 The Spanish Civil War (1936-1939) scattered players to the battlefields and turned the Chamartín field into a prisoner holding area. But as soon as the war ended, the club regrouped and came back stronger than ever under Santiago Bernabéu.
Bernabéu - the most influential figure in Real Madrid's history - was appointed president in 1943. This ushered in a wave of organizational changes for the better, along with a penchant for recruiting international superstars that continues to this day. Bernabéu played an integral role in revamping the former "Estadio Chamartín," and in 1955 the stadium officially took on the name "Estadio Santiago Bernabéu." When Bernabéu passed in 1978, he had accumulated 1 Interncontinental Cup, 6 European Cups (5 in a row!), 16 Spanish league titles and 6 Spanish Cups.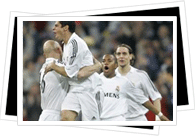 A slew of the world's top footballers have passed through Real Madrid's ranks in recent years, making each year an exciting contest!