Plaza de España & Moncloa, Madrid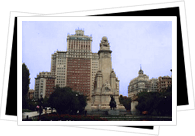 Highlights:
Plaza de España
Calle Martín de los Heros
Templo de Debod
Parque del Oeste & Teleférico
Parque de Atracciones de Madrid
Faro de Moncloa
Ciudad Universitaria
La Moncloa
The massive Plaza de España is flanked by Madrid's first skyscrapers, built in the 1950's: Torre de Madrid and Edificio España. Francisco Franco commissioned the square in the 1950's, thus its monumental, fascist feel. Plaza de España's large central statue pays homage to Miguel de Cervantes. Cervantes, seated, is accompanied by statues of his beloved characters, Don Quijote and Sancho Panza.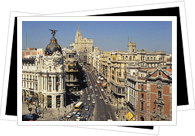 Calle de la Princesa and Gran Vía meet at Plaza de España. One of the parallels to Princesa - Calle Martín de los Heros - intersects with the plaza. Head up here and you'll find 3 great Madrid movie theaters: Cines Princesa, Alphaville Golem and Renoir Plaza España. They all play an interesting selection of movies in their original language with subtitles.
The southernmost area of the Parque del Oeste is located a few blocks west of Martín de los Heros If you're going to see any part of this Madrid park, it should be right here at the Templo de Debod.
What, you may ask, is an Egyptian temple doing in the center of Madrid? In the 1960's, Spain actively participated in a campaign to salvage an important archeological site in Egypt. As a gesture of thanks, the Egyptian government donated the Debod Temple, an early Nubian structure dating to the 2nd century B.C.E.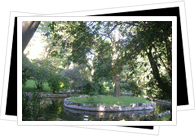 Just behind the temple there is a lookout with incredible sunset views of the Royal Palace.
Follow Parque del Oeste northwest along Paseo del Pintor Rosales to arrive at the Teleférico entrance. This aerial cable car runs above the Príncipe Pío train station, Templo de Debod, Plaza de España, the Almudena Cathedral, the church of San Francisco el Grande, and down to the vast Casa de Campo park. It lets out near the sports & leisure center at Lago and the Parque de Atracciones de Madrid. The city's amusement park has improved significantly in recent years by adding 3 new roller coasters.
From the Teleférico entrance, the Parque del Oeste continues northwest turning into Parque de la Bombilla. Outdoor concerts and film series are held here over the summer.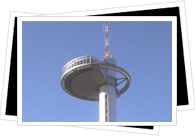 Just east of the park is the Moncloa metro stop and Intercambiador de Autobuses de Moncloa. You might need to use one of these buses to take a trip around Madrid. Here's another opportunity to get a glimpse of Madrid from above: the Faro de Moncloa. Zip up the pin-like tower in a glass elevator for less than 2 euros.
Ciudad universitaria - the vast campus of Universidad de Complutense - occupies the area north of the Moncloa metro station. Neighborhoods aroudn here logically hops with student life.
The Palacio de la Moncloa lies on the Western border of Ciudad universitaria. This is the official residence of Spain's president, currently José Luis Rodriguez Zapatero.