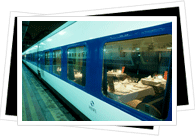 As the capital of Spain, Madrid is well-connected by train to every major Spanish city. Its central location also means that no national destination is more than 8 hours away.
It's quite a hike by train from Madrid to the nearest country. There are direct overnight trains to Paris and Lisbon, but you'll usually have to switch over in Barcelona to get to other French destinations or big cities like Zurich, Geneva, etc. To get to Morocco, you can take a train to Algeciras and from there, the ferry.
Renfe
Spain's national rail company, Renfe, administers all long distance trains ("largo recorrido"), as well as "cercanías" -- suburban trains to outlying parts of Madrid. The "largo recorrido" trains only leave from Estación de Atocha and Estación de Chamartín. You can get on Cercanías from the metro stops Atocha-Renfe, Chamartín, Embajadores, Nuevos Ministerios and Méndez Álvaro, among others.
Renfe trains are modern and comfortable. "Preferente" is first class and more expensive; "turista" is coach. The long distance trains have a cafeteria and restrooms; overnight trains have cabins with beds.
The AVE is Renfe's expensive high-speed train. The first route, from Madrid to Sevilla has been a great success and cuts the trip from a 6-hour bus ride to a 2.5 hour train ride. There are also AVE routes to Barcelona, Córdoba, Málaga, Toledo and Zaragoza.
Website: http://www.renfe.es
Reservations: (+34) 902 24 02 02
International calls: (+34) 902 24 34 02
Estación de Atocha
Glorieta del Emperador Carlos V
Metro: Atocha-Renfe (line 1)
City bus lines: 6, 10, 14, 19, 24, 26, 26, 32, 34, 36, 37, 41, 45, 47, 54, 55, 57, 59, 60, C1, C2, 78, 85, 86, 102, 119, 141, 148
Estación de Chamartín
Augustín de Foxá s/n (no number)
Metro: Chamartín (line 10)
City bus lines: 5, 14, 16, 66, 67, 70, 80, 107, 124, 129, 134, 135, 147, 150, 173, 174, 176, 178