Madrid Airport - Barajas International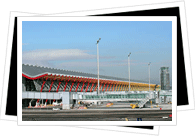 Madrid Barajas Airport services most major international airlines. A new terminal (T4) was just completed in March 2006 and traffic has already increased tremendously, making Barajas the 4th busiest airport in Europe.
Be sure to note where your flight is leaving from, because T4 is a little trek from the old complex of T1, T2 & T3. Not to worry -- below we've detailed the many ways to get to all the terminals.
How to get to the Madrid Airport by...
Metro
Option 1 -Terminals 1, 2, 3 & 4 from "Aeropuerto" (line 8)
Take line 8 (pink) to the "Aeropuerto" stop. You will exit directly into the terminal 2, which is in the same complex as terminals 1 & 3.
For terminal 4, stay on the metro until the "Aeropuerto T4" stop, which is the terminal's own stop. To get off or get on at the Aeropuerto T4 stop, you will have to pay a 1€ supplement. You can either pay the extra 1€ when you purchase your metro trip by selecting the supplement option or you can pay it in the terminal when you get off.
If you want to save yourself that extra euro, get off the metro at the first Aeropuerto stop and go towards terminal 2. Keep an eye out for the signs which lead you up an escalator to the T4 bus stop. The bus runs every 5 minutes or so and is free.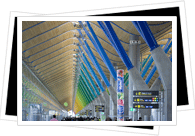 Option 2 - Terminal 4 from "Barajas" (line 8)
Take line 8 (pink) to the "Barajas" stop -- 1 stop after "Aeropuerto," the end of the line. Exit the metro and right outside you'll find an EMT city bus #201 that goes directly to T4. This trip costs the same as a one-way metro ride.
Option 3 - Terminals 1, 2, & 4 from "Canillejas" (line 5)
Take line 5 (green) to the end. From here, you can get on EMT city bus #204 to T4, or #101 to T1 & T2.
Bus
The "Intercambiador Avenida de América" is a bus station connected to 4 metro lines (4, 6, 7, 9). From here you can take
bus #200 to T1, T2, T3 or Bus #204 to T4. Otherwise, you can get on a bus from the Barajas or Canillejas metro stations, as described above.

Taxis
A taxi from the city center to the airport costs about 20€-30€. Note that there is a surcharge for airport transfer in addition to the metered fare.