Apartments in Madrid - General Information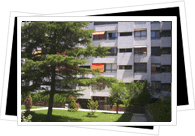 To be honest, looking for an apartment in Madrid is like looking for a great deal in other highly populated cities such as New York, Paris & London: not easy, not cheap (at least not on a Spanish salary, which averages about €1,200 per month). But don't worry… it's not impossible either!
You might find the perfect Madrid apartment in 1 day, but don't be surprised if it takes a week or so. A lot depends on luck, timing, patience and perseverance.
Visitors staying for a few nights, weeks or months can readily find apartments for short-term rent. This is becoming a more and more popular option in lieu of hotels.
Most residential buildings in Spain are built around a central patio where residents hang their clothes to dry. It's common to have a small washing machine in your apartment, but dryers are very rare. Madrid weather is so arid that clothes dry quickly on an indoor or outdoor line anyway. You can just as easily find an apartment with air conditioning as without, and the same goes for central heat or electric vs. gas stoves.