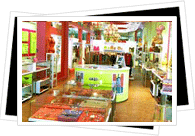 Fuencarral, the dividing line between Malasaña and Chueca, is Madrid's hub of modern fashion. We're not talking couture -- Chanel and Prada are located in Salamanca. We're talking fashion with a young, rocker touch: Diesel, Hoss, Custo Barcelona, Adidas, Puma, Levi's, Sfera, Mango... along with a gaggle of original boutiques and affordable shoe stores.
Start at the Gran Vía metro stop and work your way up the street to Bilbao, or vice versa. Mercado Fuencarral is located right in the middle of this stretch. Think skater and hipster cool. It's full of independent fashion stands for unique finds. If you're a funky type who likes to stand out, this is the place to look. Don't let the bohemian chic fool you, however. You may find some cheap finds, but buys are mid-to-pricey on the whole (one item can easily cost 80€ and up).
The streets off of Fuencarral are also worth exploring, as you'll find a number of hidden gems. Westward in Malasaña are more skate shops, second-hand stores (c/ Velarde & c/ Espíritu Santo) and trendy newcomers (c/ Manuela Malasaña). Eastward you enter Chueca, the gay neighborhood, with even more boutiques and shoe stores on c/ Augusto Figueroa.