Huertas & Paseo del Prado, Madrid
Tourism Highlights around Huertas & Paseo del Prado
Plaza de Santa Ana
Calle de Huertas
Iglesia de San Sebastián
Casa-Museo de Lope de Vega
El Ateneo
El Congreso de los Diputados
Thyssen Bornemisza Museum
Prado Museum
Botanical Gardens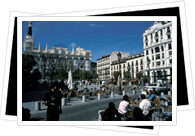 Plaza de Santa Ana is the heart of the Huertas neighborhood. The city government has given Santa Ana a face lift in recent years, from seedy to posh. Hard Rock arrived in 2006 to supplant Hotel Reina Victoria with its own, much to the dismay of many Madrid natives. The Reina Victoria was a traditional bullfighter's hangout: now it has morphed into a posh, sleek chain brand. In any case, pleasant outdoor cafes line the square and temporary "chiringuito" terraces set up just for drinks in the summer.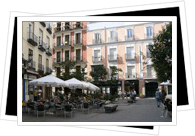 Right behind Santa Ana stretches calle de Huertas, the barrio's namesake. Tranquil by day, thumping at night, Huertas holds a plethora of bars and and some nice jazz cafes. Look down as you stroll to read quotes from Golden Age authors like Cervantes, Lope de Vega and Calderón de la Barca. They all used to live around here, thus the neighborhood's nickname "Barrio de las Letras" ("Literary Madrid").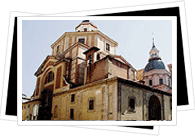 Calle de San Sebastián cuts from Santa Ana across Huertas to calle Atocha. You'll pass a little garden, which used to be the cemetery for next-door Iglesia de San Sebastián. At the church's entrance on c/ Atocha, a plaque claims that Ramón del Valle-Inclán and Mariana José de Larra married here. You can also see the death certificates of Miguel de Cervantes, Lope de Vega and Jacinto Benavente, among other famous authors.
Continuing down on calle Atocha, get back into the picturesque streets of Huertas by turning onto Calle de León. León intersects with Calle de Cervantes: number 11 is the Casa-Museo Lope de Vega, the home of and museum honoring Spain's most prolific playwright.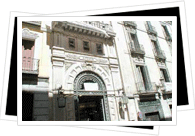 From here, León or Calle de San Augstín north let you out on Calle del Prado. Number 21 is El Ateneo de Madrid, a cultural society founded in 1835, still going strong with a wonderful library and calendar of events.
Calle del Prado leaves you out on Plaza de las Cortes, right across the street from Spain's House of Representatives, el Congreso de Diputados. Follow Calle de San Jerónimo northwest and you hit Puerta del Sol; follow it southeast and arrive at Paseo del Prado & Plaza de Neptuno.
The Thyssen Bornemisza Museum stands right on Plaza de Neptuno, at the corner of San Jerónimo and Paseo del Prado. Turn south towards Atocha to find the Prado Museum and neighboring Botanical Gardens, also on the Paseo del Prado.