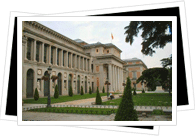 The Prado Museum ranks right up there with Paris's Louvre and London's National Gallery for the quality, breadth and renown of its collection. Just over 3,000 of the paintings in the Prado's possession were commissioned by Spanish royalty, but the collection totals over 8,500! The building is enormous by most measures - visitors tend to be overwhelmed by the size - yet it is only capable of holding about 14% of the museum's stock. Renovations are underway to enlarge the building and find a home for thousands of stowed away masterpieces.
The permanent collection is divided into 8 main categories on 2 floors: Spanish painting (1100-1850), Italian painting (1300-1800), Flemish painting (1430-1700), French painting (1600-1800), German painting (1450-1800), sculpture, decorative arts and drawings & prints.
If you're just going to visit the Prado once, it's a good idea to prioritize and plan ahead so you don't get lost in the plethora of paintings. Highlights include early Flemish works by Van der Weyden and Heronymous Bosch, enormous paintings from the Venetian Renaissance school and the amazing quantity of representations by El Greco, Velazquez and Goya.
Don't miss "Las Meninas," by Velazquez, Goya's series of "Pinturas Negras" and Bosch's "El Jardín de las Delicias."
MUSEO DEL PRADO
Address: Paseo del Prado (no number)
Tel: (+34) 91 330 28 00 or (+34) 902 10 70 77
Metro stops: Atocha (line 1), Banco de España (line 2)
Bus lines: 9, 10, 14, 19, 27, 34, 37, 45
Neighborhood: Huertas & Paseo del Prado
Open: 9am-8pm Tues-Sun
Holiday hours: 9am-2pm (Dec 24 & 31, Jan 6)
Closed: Mondays, Jan 1, May 1, Good Friday, Dec. 25
Free admission: Sundays, October 12, December 6, May 2, May 18.