Lavapiés, Madrid - Tourism
Tourism Highlights around Lavapiés& El Rastro
Plaza de Tirso de Molina
Plaza de Cascorro
El Rastro
Puerta de Toledo
Embajadores
La Casa Encendida
Plaza de Lavapiés Lavapiés
Calle Argumosa
Reina Sofia Museum
Estación de Atocha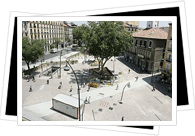 Plaza de Tirso de Molina is named after the celebrated Golden Age playwright who created the original escapades of Don Juan in "El Burlador de Sevilla." This square belongs to no one neighborhood, rather it lies on the border of various neighborhoods: Lavapiés to the south, Sol to the north, Huertas to the east, and La Latina (also known as Hapsburg Madrid or "Madrid de los Austrias") to the west. Tirso used to be seedy and slightly dangerous, however the city recently revitalized and cleaned up the area. Now you can enjoy multiple outdoor cafés and a flower market.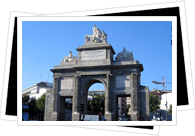 Madrid's famous Sunday flea market, El Rastro (open early morning - 3pm), trickles out onto Tirso de Molina, but you have to head west to Plaza de Cascorro to get into the action. Read more here: El Rastro
El Rastro ends south at Puerta de Toledo. This gate was constructed between 1817 and 1827 under the reign of Ferdinand VII.
Follow Ronda de Toledo east to Glorieta de Embajadores. This neighborhood is called "Ambassadors" because a 17th century plague forced the city's embassies to temporarily relocate here. When you cross the glorieta, Ronda de Toledo becomes Ronda de Valencia. There's a great cultural center at Ronda de Valencia 2, La Casa Encendida.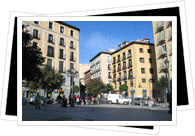 Turn north on Calle de Valencia to enter the barrio of Lavapiés. This neighborhood was the walled-in "Judería" - the medieval Jewish quarter- until Jews were forced into exile or conversion in 1492. Lavapiés then became Madrid's working class neighborhood for hundreds of years and largely fell into ruin until artists and immigrants began to fill its abandoned houses in the 1980s and 1990s. Since then, an inevitable gentrification process has occurred and is zooming ahead at full force. It's now a multicultural, bohemian neighborhood full of bars, galleries, ethnic restaurants and cafes. Calle de Valencia leads straight up to Plaza de Lavapiés.
From Plaza de Lavapiés you can veer back off towards El Rastro to the west. Head uphill and you'll pop back into Tirso. A great vein off the plaza is Calle Argumosa, the place to be when the weather's nice. It's lined with boutiques and dozens of bars with outdoor seating, so you can partake in one of Madrid's great pleasures, "las terrazas."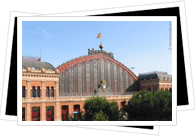 Argumosa leads all the way down to Ronda de Atocha, ending in front of the Reina Sofia Museum's new, glossy red addition. Turn left on Ronda de Atocha to reach this fantastic modern art museum's main entrance.
As you ride the Reina Sofia's exterior glass elevators, you'll notice the massive crystal and brick Estación de Atocha across the street. Madrid's first and largest train station, it dates to the 19th century. Don't miss the strange but lovely tropical greenhouse in the station's main entrance.