Madrid bars close between 2am and 3:30am, depending on the type of license they have. As recently as 5 years ago this was not the case - bars stayed open until all hours of the night - but laws and enforcement have become much stricter since then.
Looking to shake up the typical pub experience? Here's just a sampling of the wide variety of bars Madrid has to offer...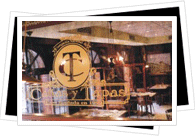 Bares de tapas & cañas
The most authentic of Madrid bar experiences is the tapas bar. Here, you can order a bunch of small food portions, "tapas," or its larger variant, "raciones," to share with friends while standing at the bar. This is a typical early night activity, starting around 9:30pm.
In the old days, you'd get a free tapa with your drink. Unfortunately, these bars have become more and more scarce. To find free food these days, take tips from locals or look for these characteristics: Not-so-polished. Old-school Spanish. Older bartenders.
A "caña" is a short draft beer for about 1€ or 1.10€. You can also order a "tubo" (twice the size in a tall skinny glass) or "jarra/ doble" (even bigger, in a mug). A "vino tinto" is red wine, "vino blanco," white.
Bares de copas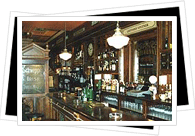 "Bares de copas" serve beer, mixed drinks, and sometimes cocktails. These locales are more likely to have dance music and even a small dance floor. You'll usually head here around midnight, after the tapas or cañas bar. Some vocabulary for bares de copas...
Beer: Asking for "una cerveza" or "un tercio" will get you a bottled beer. The most common national brands are Mahou, Cruzcampo and Estrella
Mixed drinks: "Cubata" is one way to say a mixed drink. Or just ask for ron (rum)/ whiskey/ vodka/ gin CON coca cola/ fanta (limón, naranja..)/ tonic...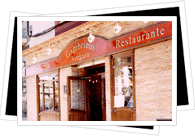 Cervecerías
This is the Spanish equivalent of a pub, often called just that: "pub irlandés".
Coctelerías
A "coctelería" serves all kinds of cocktails, but tropical drinks like mojitis, caipirinhas and margaritas are especially in fashion these days. This kind of Madrid bar tends to have a chill-out, trendy vibe with comfortable seating and colorful decor -- more for chatting than dancing.