Reina Sofia Museum, Madrid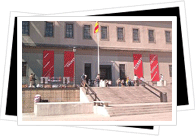 While the Prado is Madrid's bastion of classical art, the Reina Sofia holds the country's most prized modern treasures. It picks up where the Prado leaves off - the second half of the 19th century - and boasts painting, sculpture and multimedia exhibits straight up through the 21st.
The museum's 2nd and 4th floors hold the permanent collection, accessible by exterior windowed elevators. You can enjoy views of the Atocha train station as you shoot up to the galleries. The building itself is a pleasure to roam, as it's characterized by wide open spaces and high ceilings centered around a spacious patio/ sculpture garden. A striking red addition designed by Jean Nouvel was completed in 2005 and holds an auditorium, library, bookstore, and space for temporary exhibits.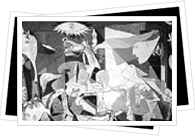 You'll find the earlier half of the permanent collection on the 2nd floor; this is where the turn of the century Spanish vanguard is concentrated. Cubism and surrealism are widely represented by works like Picasso's "Guernica," Dalí's "El gran masturbador," Buñuel's "El perro andaluz" and Juan Gris's paintings. Abstract and pop art can be found on the 4th floor.
Museo Nacional Centro de Arte Reina Sofía
Address: c/ Santa Isabel, 52
Tel: (+34) 91 774 10 00
Metro stops: Atocha (line 1)
Bus lines: 6, 10, 14, 18,19, 26, 27, 32, 34, 36, 37, 41, 45, 46, 55, 57, 59, 68, 86, 119, Circular
Neighborhood: Lavapiés
Open: 10am-9pm, Mon-Sat; 10am-2:30pm Sun
Closed: Tuesdays; December 24, 25 and 31; January 1 and 6; May 1; Sept 9; Nov 9
Free admission: 2:30pm-9pm Saturdays; 10am-2:30pm Sundays; May 28, October 12, December 6. Always free for under 18s, over 65s, retirees, unemployed persons, cultural and educational volunteers.