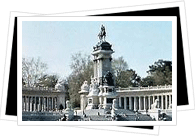 El Retiro park is Madrid's most elegant and popular, located right behind the Prado Museum in the heart of the ritzy Salamanca neighborhood. It's easily accessible by metro stations Retiro (northern side), Ibiza (eastern side) and Atocha (southwest corner).
The park emerged in the early 17th to hold a recreational royal palace for Phillip IV. Of the original buildings constructed, two remain standing outside the current park boundaries. "El Casón del Buen Retiro" on Calle de Felipe IV holds works from the Prado Museum, while "El Salón de Reinos" on Calle de Méndez Núñez houses the Museo del Ejército (Army Museum).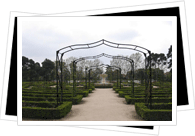 El Retiro park opened to the public in the 19th century and has been a popular retreat for tourists and natives alike ever since. Children can enjoy street performances like puppet shows, jugglers, mimes and musicians around every corner. Snack vendors sells treats and beverages along the park's main roads.
Most visitors flock to the park's artificial lake, where you can take out a rowboat, sit at an open-air café or sunbathe on nearby patches of grass. A statue of Phillip IV overlooks the lake; percussionists and hippies gather here for Sunday afternoon drum circles, a longstanding Retiro tradition.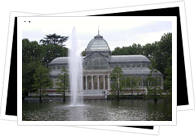 You can also find Madrid culture here at the historic exhibition spaces of Palacio de Velázquez y Palacio de Cristal.
El Retiro has great paths for joggers and bikers, but women especially should avoid sporting here at night. You're well advised not to enter unaccompanied after sunset.