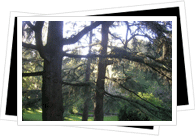 Parque del Oeste lies along the western border of the city's university district, Moncloa. Alberto Aguilera, Madrid's mayor from 1901-1910, commissioned the park in 1906 to give Madrileños a nice place to relax, stroll and breath in some much needed fresh air during the turn of the century industrial boom.
Just a few decades after its construction, Parque del Oeste suffered great damages during the Spanish Civil War (1936-1939). Its sculptures, streams and pathways were subsequently redesigned. One of the many additions, "Jardines de la Rosaleda" has brought a Madrid a delightful place to smell the roses since 1958.
The southeastern end of the park holds a 2nd century B.C.E. Egyptian temple, Templo de Debod. (See Tourism around Plaza de España).
You can also hop on the Teleferico here to Casa de Campo, with great elevated views of the city.