Puerta del Sol, Madrid - Tourism
Tourism Highlights around Puerta del Sol & Gran Vía
Puerta del Sol
Calle Arenal
Chocolatería de San Gines
Real Monasterio de las Descalzas Reales
Plaza de Callao & Gran Vía
Calle de Preciados y Calle del Carmen
Calle de Alcalá
Royal Academy of Fine Artes
Círculo de Bellas Artes
Plaza de Cibeles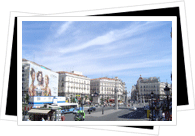 Start at the center of it all, Puerta del Sol. You'll be surrounded by shoppers and tourists, making it difficult to discern what the fuss is all about. Hone in on the Casa de Correos, the plaza's oldest building dating to 1766. The limos, suits and bodyguards in front key you into the building's current function: the seat of the regional governement, La Comunidad de Madrid. This former post office sits on the southern end of Sol.
Circle your way around to one of Puerta del Sol's western veins, Calle Arenal. This street, recently repaved as a pedestrian-only walkway, ends at Plaza de Isabel II, right in front of the Royal Theater. But there are some things to see before you reach the end. Tucked behind Calle de Bordadores (on your left) is Plazuela de Sin Ginés and the famous Chocolatería de San Ginés, open 'til the wee hours of the night for hot chocolate & churros, a Madrid tradition. Calle de Bordadores is called Calle de San Martín on the other side of Arenal. Head up San Martín and you'll arrive at a pretty plaza holding the Real Monasterio de las Descalzas Reales, where Charles V (Carlos I of Spain) and his wife, Isabel de Portugal resided in the early 16th century. Isabel converted their palace into a convent for Franciscan nuns in 1557; her daughters Juana and María live here too. The interior holds 17th century Belgian tapestries.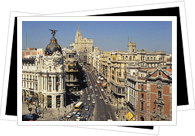 Continue north from Desclazas and you'll hit Plaza de Callao & Gran Vía. Callao holds a high concentration of movie theaters; most notably the 1920's Palacio de la Prensa and, eastward on Gran Vía 35 (back towards Sol) the Palacio de la Música. Note that crossing Gran Vía will take you right into Malasaña or, further east, to Chueca. Gran Vía ends to the west at Plaza de España and to the east at the intersection with Calle de Alcalá.
Two streets from Callao lead directly back to Puerta del Sol: Calle de Preciados, with the Corte Inglés & FNAC department stores, plus Zara, H&M, Camper, etc., and Calle del Carmen. At the end of Carmen you'll find the city's most popular meeting place, "el Oso y el Madroño" (the Bear & the Strawberry Tree), a statue of Madrid's emblem.
Now that you're back at Puerta del Sol, take another exit east - Calle de Alcalá. Just a few meters from Sol, on Alcalá 13, is the Real Academia de Bellas Artes, a hidden gem of a Madrid museum. Further down, Alcalá 42 houses one of Madrid's oldest cultural centers, the Círculo de Bellas Artes, where you can stop for an art expo, film, or café.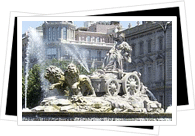 Continue to the symbolic roundabout of Plaza de Cibeles, Alcalá's intersection with Madrid's grand north-south axis called Paseo de Recoletos & Paseo de la Castellana to the north and Paseo del Prado to the south. Two important facts about Cibeles: 1) When the metro closes at 2am, all night buses leave from Cibeles. 2) When Real Madrid wins the Spanish league, this is their celebratory spot. Keep up Alcalá and you arrive at Puerta de Alcalá and the Retiro Park.