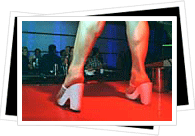 Madrid has a thriving gay scene: "el ambiente." "El ambiente" literally means "the atmosphere," and if you're into it, you just have to answer one question: ¿entiendes? (Do you understand?) If you answer yes, "sí," you've made your position clearly understood.
Gay Madrid's catwalk is Plaza de Chueca. This otherwise drab square, centered around the Chueca metro station, is lined with cafés and bars all catering to the gay scene. Plentiful outdoor seating makes this a popular see and be-seen spot, but the plaza is just a starting point. Explore the surrounding streets and to see what the "Barrio Rosa," is all about.
Gay Nightlife in Chueca
Here's a sampling of the most popular gay bars, restaurants and nightclubs in Chueca. The closest metro stops are Chueca and Gran Vía.
Black & White, c/ Libertad 34. Strip shows & cabarets, a Gay Madrid classic. Disco-bar. Closes at 5am.
Liquid, c/ Barquillo 8. A sleek, modern favorite. Disco-bar. Closes at 3am.
Leather Club, c/ Pelayo 16. Lives up to its name. Disco-bar. Closes at 3am.
Rick's, c/ Clavel 8. Expensive & mixed scene. Club. Disco-bar. Closes at 6am.
Gula Gula, Gran Vía 1. Lively drag show + food. Restaurant. 9€ lunch prix fixe; 16€ or 20€ dinner prix fixe.
Gay Nightlife outside Chueca
These options outside Chueca pack a punch as well. The gay bars in Lavapiés are perfect if you're looking for a much more relaxed vibe.
Ohm, Plaza de Callao 4, metro Callao. Large, popular club. Closes at 6:30am
La Lupe, c/ Torrecilla del Leal 12, metro Antón Martín. Chill and mixed in Lavapiés. Closes 2:30am.
Sweet, c/ Doctor Cortezo 1, metro Tirso de Molina. Easygoing as clubs go. Closes 6am.
El Mojito, c/ Olmo 6, metro Tirso de Molina or Antón Martín. Tasty cocktails, small locale. Closes 2:30am.
Medea, c/ Cabeza 33, metro Tirso de Molina or Antón Martín. Madrid's oldest lesbian discotheque. Closes 5am.