Spanish School in Madrid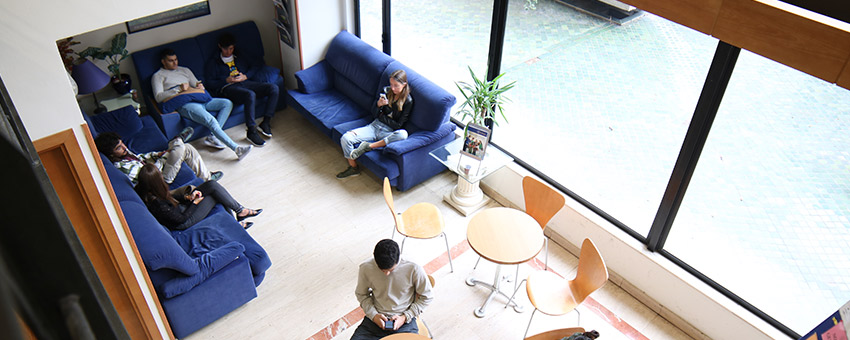 If you're looking for a school that's every bit as diverse as the melting pot of culture that is Madrid, then Enforex Spanish Schools are the answer! Enforex Madrid is our second largest Spanish school in Spain, where students of all ages come from around the globe to learn Spanish. The friendly, multicultural and open environment is further complemented by Spaniards who join us to study English, German and French. All of this, along with recently renovated facilities, adds up to a lively international environment that reflects the wonderful city itself.
Minimum student age: 14 years old
Location
Our Spanish school in Madrid is located right in the city center, near Plaza de España and Malasaña in the "Argüelles" neighborhood. This is the city's university district, full of great bars, restaurants, movie theaters, concert venues and locals and foreigners of all ages. You can walk nearly anywhere in the city center or use the nearby metro lines and buses with stops just a few blocks from school.
5 minute walk from the University and Plaza de España
Metro stops: San Bernardo and Arguelles
9 bus lines have stops right near the school
Facilities
We work hard to ensure your comfort while studying Spanish in Madrid. That's why Enforex Madrid is a recently renovated building with ample natural light and: free internet access, a large common room, air conditioning/ central heat... Plus we offer accommodations options at less than a 30-minute commute from school. Shared student apartments, student residences, host families, or private apartments/ hotels/ hostels at special rates.
Recently renovated 2-story building with ample natural light
40 classrooms with audio-visual equipment
Computer lab with 20 computers and free Internet access
Wi-Fi (wireless access throughout the school)
Large common room with vending machines
Well-equipped library and video library
Teacher's room
Spacious central patio
Air conditioning and central heat
Diversity
Make new friends from all over the world! Enforex Madrid welcomes a melting pot of students from the USA, England, Australia, Canada, New Zealand, Brazil, Germany, Poland, Bulgaria, France, Italy...