Recoletos & Salamanca, Madrid
Tourism Highlights around Salamanca, Madrid:
Paseo de Recoletos
Café Gijón
Biblioteca Nacional
Archaeological Museum
Plaza de Colón
Calle Serrano
Residencia de Estudiantes
El Viso
Retiro Park
Santiago Bernabéu Stadium
Plaza de Castilla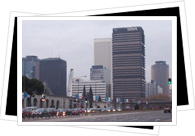 Salamanca comprises the area east of Paseo del Prado/ Paseo de Recoletos/ Paseo de la Castellana, a north-south boulevard that divides Old Madrid (west) from New Madrid (east) and continues north to city's modern financial district. Paseo del Prado, the southernmost and oldest section, begins by the Atocha train station and Reina Sofia museum. Paseo de Recoletos was added and later on and, lastly, the extensive Paseo de la Castellana.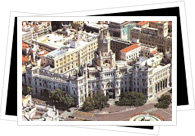 Paseo de Recoletos meets Paseo del Prado at Plaza de Cibeles. Head north along the central pedestrian walkway towards Paseo de la Castellana. This tree-lined promenade is full of benches and hosts numerous art & book fairs throughout the year.
As you head down Recoletos, you'll pass a number of classic - and pricey - Madrid cafes with outdoor seating. If you're willing to splurge for the experience, relax at the classic and renowned Café Gijón (Paseo de Recoletos, 21), founded in 1888. Spanish authors of the "generación de '98" and the "generación de '27" used to meet here for "tertulias" -- intellectual roundtables.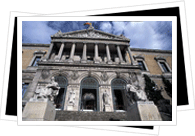 Across the street from Gijón you'll find the Biblioteca Nacional & Museo del Libro, Spain's National Library. This neoclassical giant used to be accessible to researchers only, but now it's open to the public for free. Right behind the Library, on c/ Serrano 13, stands its architectural sibling, the Museo Arqueológico. For more information, see other Madrid museums.
Adjacent to both of these is Plaza de Colón. You can't miss the enormous Spanish flag flapping in the wind and neo-gothic monument to Christopher Columbus. Beneath the square's delicate waterfall sits Centro Cultural de la Villa, a fine cultural center run by the local government. Colón is a popular skate park too.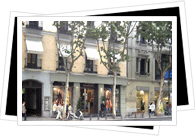 Plaza de Colón's eastern side stretches along calle Serrano. Serrano is packed with luxury stores like Loewe, Gucci, Carolina Herrera and Yves Saint-Laurent, along with some affordable Madrid shopping options like the Zara mega-store.
South on Serrano brings you straight to the the Plaza de Independencia, one of the main entrances to El Retiro. This beautiful green space is surrounded by gorgeous private homes, many former 19th century palaces.
North on Serrano you'll pass a number of stately embassies and, way down, just off Serrano on calle del Pinar 23, the Residencia de Estudiantes. A plethora of famous artists and authors lived or visited here in the early 20th century: Federico García Lorca, Salvador Dalí, Luis Buñuel, Miguel de Unamuno, José de Ortega y Gasset and more. It continues to house students, a library and a cultural center.
This far north, we've actually arrived past Salamanca to the neighborhood known as Chamartín. Just above calle María de Molina, you can gape at the luxury homes of El Viso. It's the wealthiest corner of Madrid.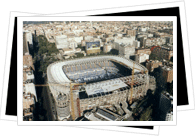 María de Molina west lets you out on Paseo de la Castellana. Head further north and you'll hit the Santiago de Bernabéu soccer stadium, where Real Madrid CF plays.
The last stop on our tour of New Madrid is Plaza de Castilla, located all the way up Paseo de la Castellana. Puerta de Europa, the two inclined towers at the center of the square, is the most important symbol of modern, commercial Madrid.